1975
Technically TREPKO had some interesting years. The machines were developed to handle many new products – for instance margarine and butter – products that required a system with continuous feeding of the product through a compensator.
As the Danish dairies were merging, capacity requirements rose, whereby the capacity of the machines was increased. The filling/closing machines were thereby now supplied with up to 8 parallel lanes. These machines were not only of interest to the large Danish dairies, but also increasingly interesting to the large international food companies around the world.


1996
Mr. Henning Poul Holskov who has taken over the company after his father (the founder) retires at the age of 62, and sells the company to Mr. Hans Christian Hansen (the present owner).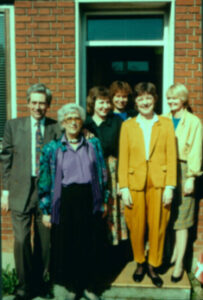 Group picture from the entrance to TREPKO's reception (approx. year 1990) . From left to right: Henning Holskov (the former manager and owner), Gudrun Petersen (Henning Holskovs mother), Alice Hansen (accountant assistant), Hanne Herager (Chief accountant), Karin Hartman (Secretary), Lisbeth Holskov (Sales secretary and wife of Henning Holskov).