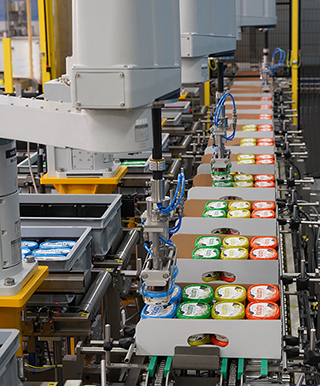 A packaging line equipped with a tray forming machine, conveyors and flavour mixing robots is our newest product dedicated to companies looking for a way to improve efficiency and boost the attractiveness of their line-up on store shelves. Mixing robots allow you to quickly adjust your range of products to the changing expectations of customers and give you an edge over your competitors.
This advanced packaging line from TREPKO will fit in any production line where mixes of flavours are packaged in bulk. We customise every line to the needs of each factory by installing and programming the mixing robots according to our customers' specifications.
Automate your packaging line with TREPKO and enjoy a range of benefits
Equipping a packaging line with mixing robots brings you many benefits:
Effective mixing of flavours in collective packaging;
Ability to quickly adjust flavour sets to market expectations;
Efficient use of collective packaging (cartons);
Improved effectiveness and efficiency of the packaging line thanks to a shorter manufacturing cycle;
Less space used in the manufacturing hall;
Flexible and mobile packaging system;
Product quality guaranteed by repeatability of the manufacturing process;
Easier maintenance of sanitary standards;
Safety for packaging line workers;
High product stability during transport.
A TREPKO packaging line equipped with mixing robots allows you optimise manufacturing costs, guarantees a high quality of your products and boost their attractiveness.
Quick and error-free mixing of flavours: the perfect task for TREPKO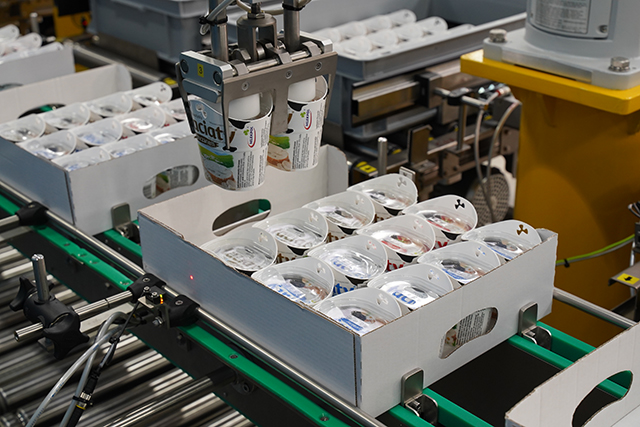 Manually combining different flavours takes effort and concentration, and mistakes happen. You can avoid these problems altogether by letting robots do the job for you. A set of mixing robots will follow their programmed instructions to arrange the flavours in the appropriate positions in the formed trays.
The robots use grabbers to take out each flavour from boxes and place them in order into a carton on a roller conveyor. Next, the arrangement of flavours leaves the robot section and is picked up from the conveyor by an operator and stacked on a pallet.
Our latest iteration of a packaging line that we provided to one of our customers was equipped with 4 mixing robots, a tray forming machine (720 or 721 Tray Erecting Machine) and a roller conveyor.
You can also combine mixing robots with other TREPKO packaging machines and add a palletisation function (the 740 Series) to create a complete packaging line suited to your customers' expectations.
A mix of flavours in aesthetic bulk packaging enhances brand image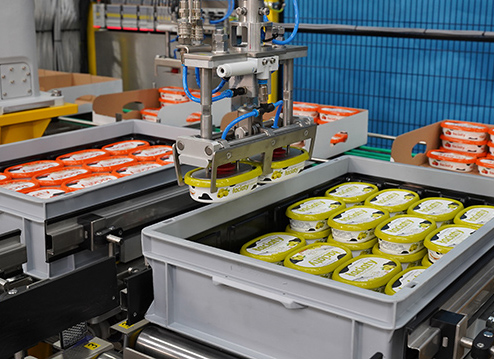 Introducing mixed-flavour packaging onto the market boosts the attractiveness of your product for the customers, improving your competitiveness on the market. A line equipped with mixing robots lets you quickly launch the manufacture of promotional and holiday sets. Bulk packaging formed and glued on an advanced automated line is highly aesthetic and durable, which makes it a perfect ad carrier for your brand's image.